Phase II: Budget Delegate Analysis
In the second phase of Auraria PB, budget delegates worked with campus staff members to develop project proposals that would be placed on a ballot for a campus-wide vote. In this section of the report, we provide our findings based off data collected from budget delegates and campus staff members.
The data collected from budget delegates includes 28 survey questionnaires, three interviews, and participant observations. The survey completion rate was 96.5% percent. Between September 2018 and October 2018, the research team attended eight budget delegate events and generated 95 pages of fieldnotes. What follows are findings from budget delegates.
Key Findings
Budget delegates were mostly comfortable with various civic skills and practices, with 73% of respondents indicating they were very or extremely comfortable making collective decisions and 71% indicating they were very or extremely comfortable expressing their opinions to student government
Budget delegates were mostly comfortable with various civic skills and practices, with 73% of respondents indicating they were very or extremely comfortable making collective decisions and 71% indicating they were very or extremely comfortable expressing their opinions to student government

However, budget delegates were less comfortable with other democratic practices, as 22% said they were "not at all" or "somewhat" comfortable with negotiating and building agreement, and 22% were "not at all" or "somewhat" comfortable with their ability to influence campus decisions

Budget delegates were highly engaged in their communities before PB, with three quarters of respondents saying they had worked previously to address a community problem, and almost two thirds reported voting in the 2016 presidential election

14% of budget delegates were ineligible to vote, demonstrating PB's ability to engage people typically excluded from public decision making

Budget delegates had not participated heavily in political events, nor did they have much experience organizing meetings

Budget delegates were highly involved on campus, but some did not know how to affect change. Half of respondents indicated they were "very" or "extremely" involved in campus life, but only about one in five were "very" or "extremely" comfortable with knowing how to start making a change on campus

Budget delegates were predominantly undergraduates, with only 7% of them being graduate students

68% of budget delegates attended the University of Colorado Denver

Almost two-thirds of budget delegates were female

39% of respondents' household income was under $25,000

One in five respondents were born outside the United States

Race and ethnicity demographics of budget delegates roughly matched the Auraria Campus, with individuals who identified as Black being overrepresented
Demographic Data
Age
64% of budget delegates were traditional-age students (under 25-years-old). 35% of budget delegates were over 25, and the youngest delegate was 16.
Comparison to campus data: Traditional age students are 61% of the Auraria campus, while non-traditional age students are 39%. Budget delegates reflected the demographics of the campus overall.
Household Income
71% of budget delegates reported a household income of less than $50,000 per year, including 39% who reported household incomes less than $25,000 per year.
Comparison to census data: Budget delegates with incomes less than $25,000 were overrepresented, while those with incomes over $50,000 were under-represented.
Race and Ethnicity
Approximately half of budget delegates identified as a person of color, including 26% who identified as Hispanic or Latinx, and 13% who identified as Black or African American.
Comparison to campus data: Across nearly all race/ethnicity categories, survey respondents were reasonably representative of campus data, except for Blacks being overrepresented among budget delegates
Year of Study
93% of budget delegates were undergraduates, and 7% were graduate students. Among undergraduates, budget delegates tended to be upperclassmen, with 57% indicating they were a junior or senior.
Institutional Affiliation
68% of budget delegates attended the University of Colorado Denver. 18% attended Metropolitan State University, and 14% attended Community College of Denver
Comparison to campus data: CU Denver was overrepresented while MSU and CCD were under-represented among budget delegates
Gender
More women served as budget delegates than men.
Comparison to campus data: Women were overrepresented as budget delegates by approximately 10%, and men were under-represented by about 10%.
Country of Origin
Approximately one in five budget delegates were born outside the United States, and countries of origin included Ethiopia, Canada, China, Germany, Mexico, and Saudi Arabia.
Comparison to census data: Budget delegates were nearly representative of census data.
Language Fluency
All budget delegates were fluent in English; seven reported feeling comfortable speaking Spanish; and one reported comfort speaking Arabic.
Civic Engagement, Beliefs, and Efficacy
Prior Involvement in Auraria PB
89% of budget delegates had not previously participated in the Auraria PB process. Of the three delegates who had previously engaged in the process, all of them served on the steering committee.
Deliberative Skills
Experience and comfort with various forms of democratic and campus engagement varied among the budget delegates. They were mostly comfortable with making collective decisions and expressing their opinion to student government. 73% were "very" or "extremely" comfortable making collective decisions, and 71% were "very" or "extremely" comfortable expressing their opinions to student government.
On the opposite end of the scale, budget delegates were least comfortable with negotiating and building agreement, as well as their ability to influence campus decisions. 22% of respondents indicated "not at all" or only "somewhat" for both items.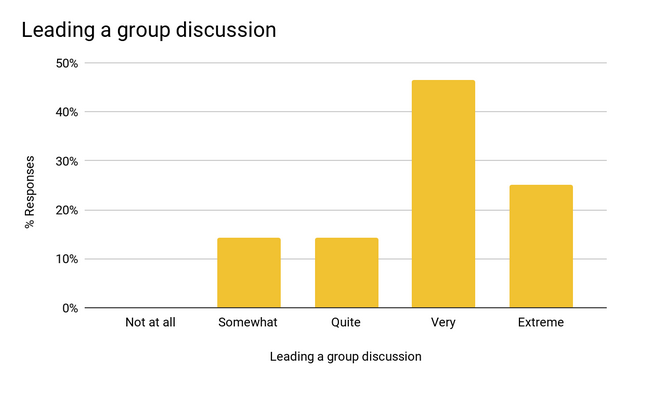 Prior Community Engagement
Three quarters of budget delegates had worked with other people in their community in the past 12 months to fix a problem or improve a condition. One quarter had not.
Prior Voting Experience
The majority of budget delegates had voted in the most recent U.S. election, which was the 2016 presidential election. 14% of respondents reported that they are ineligible to vote.
Deliberative Practices
Budget delegates reported completing a variety of social action work in their communities both on and off campus in the past 12 months. Delegate actions tended to skew toward more passive and non-political events. For example, 36% said they had attended a neighborhood/community meeting or event more than five times, but 60% said they had not organized a single meeting about community issues. Similarly, 89% said they had attended a campus-wide event more than twice in the past year, but only 18% had contacted student government more than two times.
Political action, in general, was not common among budget delegates. 71% of respondents had attended a political party meeting or event zero to one time. 57% had attended an activist group meeting zero to one time, and 57% had attended a rally or protest zero to one time.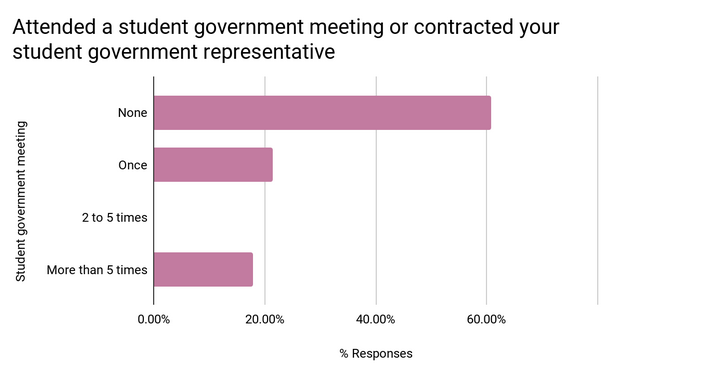 Prior Campus Engagement
Budget delegates rated themselves highly engaged in campus affairs. Half of respondents said they were "very" or "extremely" involved in campus life outside of classes. When asked if they feel a sense of connection and/or community on the Auraria campus, 71% responded "somewhat," "very," or "extremely," while only 29% reported "not at all" or "a little."
Yet, budget delegates were uninformed about how social and policy change occurs on the campus. When asked how well they understand how student government works, 47% responded "not at all" or "a little." When asked how comfortable they were with knowing how to start changing an issue on campus, half of respondents said "not at all" or "a little."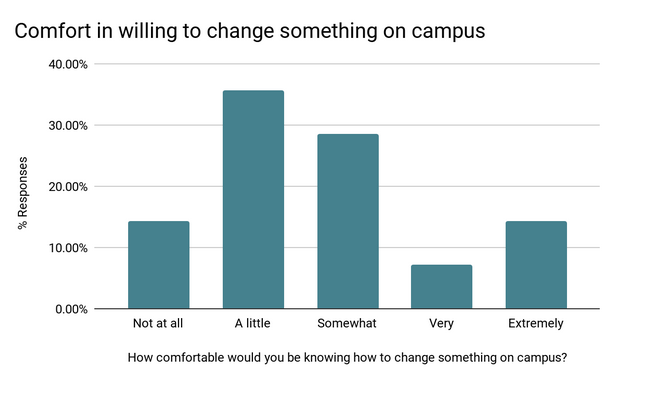 Budget Delegate Interview Findings
Successes
Budget delegates worked to prioritize the project ideas submitted by participants and, ultimately, developed the final project proposals for the vote in December. All interviewees reported several successes for PB: the relationships developed, the support from the Auraria campus staff, the process of developing the project proposals, the increased student engagement on campus issues, and the deliberation process of vetting proposals and learning what's feasible and what's not.
One interviewee explained, "I think the process of participatory budgeting creates spaces for a lot of skill development that aren't always prioritized in class. That process of having to deliberate and explore what's practical and what's not, can you push, kind of unveiling some of the power structures on campus." Budget delegates enjoyed the process that allowed them to learn new skills and connect with more people that they may not have otherwise. As a democratic process intended to give students power around campus decisions, many of the budget delegates appreciated the opportunity provided by PB to make change through the different proposals.
Challenges
Budget delegates also identified several challenges for PB in their interviews, namely a lack of structure, a lack of communication, a lack of time, and a lack of institutional support. First, as stated by one interviewee, "Since it [PB] was a new thing at Auraria campus, it was kind of freehand. It was challenging, but, at the same time, it was rewarding." While there were guidelines for budge delegates outlined at the beginning of the process, those guidelines were frequently modified as the process progressed. Because PB lacked precedent on campus, budget delegates often felt they were making new rules as they went along.
The compressed timeline of Auraria PB also was a challenge. As stated by one budget delegate, "On a logistical level, the process I think was condensed and was more rushed than it would be in an ideal situation or in an ideal world, so I think that created anxiety." The process was only four months long, which was less than half the time of the average PB process in North America. It may be of benefit if the cycle is extended over a full academic year rather than an academic semester. There was a lot to be accomplished over such a restricted period.
Finally, interviewees reported a lack of communication between various stakeholders, especially as it related to teamwork and collaboration. For some, it was difficult to work with other people, especially with college students, because everyone was on a different schedule and extremely busy trying to balance multiple responsibilities (e.g., budget delegate, student, club member, family member, employee, etc.). Some communication tensions arose around what kinds of projects would get implemented and the boundaries surrounding feasibility. Some members would commit to a project and "Say they're gonna do something and then not be able to do it," as commented on by one of the budget delegates. This lack of communication also resulted in a degree of dishonesty between student government and campus administration. One budget delegate said, "I was surprised by some of the levels of dishonesty that seemed to happen throughout the process from, if not an administrative then student government, and that wasn't across the board between the three campuses." While there were some challenges during implementation, many of the budget delegates were excited about the work they accomplished.
Lessons Learned
Interviews with budget delegates identified lessons learned throughout this implementation project that could be used for future processes:
A deeper understanding of campus operations to implement change on campus. Prior to PB involvement, the delegates explained they were not as informed on operations. This process has allowed budget delegates to learn how campus works and better preparing budget delegates for operations challenges at the beginning of their work could help PB generate better projects. Most of the budget delegates agreed that this work helped them to learn how to draft proposals and practice communicating ideas with other people about bigger projects.
"I did learn more things about campus processes. I would say that it helped in idea formation, navigating campus, and practicing pitching ideas." -Budget Delegate
Another lesson learned was the importance of building relationships and connecting with other people. A budget delegate said, "One thing I learned - the relationships were beneficial, as well." There were a few skills related to relationships that many of the budget delegates commented on learning, including meeting new people, working as a team, and actually being able to communicate with a team to make decisions and have one's voice heard.
Auraria Campus Staff Interview Findings
Successes
The research team interviewed two Auraria campus staff members who worked closely with budget delegates and student organizers to implement the PB process and vet project proposals. The interviews revealed several successes of the process, according to the interviewees: that the process was student initiated and student led, that the process served as a school for democracy, that projects not funded through PB will still be implemented, that the process generated creative and high quality projects, and that PB promoted collaboration across multiple stakeholders.
First, interviewees reported that they appreciated that PB was initiated and led by students. Both interviewees indicated hearing about Auraria PB from students. As one staff member explained, "This was my first experience with PB and finding out what it is. I discovered the whole process because I was walking through campus on the first day of class and saw [PB students] tabling." Staff liked that the process was led by students and strove to support them as they tried to develop project proposals. One interviewee described his role as "a mentor or steward of students' ideas." He "didn't want to influence them" with his ideas and instead allowed students to take the reigns on project development. Staff participants found working with the students to be highly rewarding. As one indicated, "Working with the students was most rewarding. Learning from them and hopefully passing on some knowledge to them. It was exciting to see them engage in a way I never did as a student."
Second, Auraria staff believed the process was successful at promoting student learning, especially as it relates to the skills and habits necessary to thrive in a democratic society. As one interviewee explained, "I think erosion of democracy is a serious concern, and getting people to see a direct result of participation in democracy is a great way to strengthen our institutions. For that reason alone, just giving students a win on a small scale sets them up for wins on a big scale." Staff reported that students engaged in stakeholder engagement, thorough research, and realistic budgeting. One participant said these skills were important because "that's what it takes in the real world to get things done." Staff believed the practice of deliberative democracy through PB was instructive for students: "I think in the end everyone had their input and participation, and it was useful and meaningful. Not everybody won, and there's a lesson there, too, which is a good part of this. That's why taking it to your peers is so good."
Third, staff reported that Auraria PB promoted creative and high quality projects. One interviewee said, "If you come up with an idea in an office, things get tossed out more easily. In this [PB], people came up with ideas, and the door was cracked open for these more." The project ideas generated and funded through PB also reflected a shift in funding priorities for the school. One staff member reported that campus administrators always fund security and cost-saving measure first, and then everything else gets low priority. Students indicated that the values of security (i.e., surveillance and militarization) and austerity were not as important to them as providing a sustainable, inclusive, and supportive learning environment. As one interviewee explained: "The bus stop was not on anyone's radar. … I think this took lower priority projects for [administrators] and made it high priority for students, when that consideration isn't normally there."
Staff found that the projects funded through PB were of high quality, too. One interviewee was impressed with how practical the projects were, and another staff member said that the winning projects "generally focus on helping each other, being there for your fellow students, supporting each other, and that was really cool."
Fourth, even projects that weren't funded through PB, staff found to be useful and helpful for their jobs. So much so, that they were likely to implement PB projects that did not win or could not be placed on the ballot. One interviewee said he found several of the projects related to sustainability to be quite useful, and even though they weren't funded through PB, he was going to implement them anyway. Other projects were able to be funded outside of PB. Several Wi-fi improvements provide an example: "I think some of the Wi-fi improvements were taking place already or brought attention to where the need was. I know Tivoli [Student Union] is going to improve their Wi-fi, and this process sparked that timeline being shortened. It was on the docket, but a few years out, and it's been moved up in priority." One staff member said that PB improved efficiency by placing power in students' hands and getting projects that meet students' needs funded more quickly: "Really, the difference is the actual real change the individual student can make. It really puts the process in their hands. The campus was going to tackle these problems someday anyway. It makes it happen quicker. It gets people what they need quicker." Overall, interviewees reported that PB provided an important means of formal input for students so that staff could better understand students' needs and take actions to meet those needs.
Lastly, staff members found that Auraria PB was successful in promoting collaboration across the campus. When asked what he would describe as a success of PB, one staff member said, "That it was truly tri-institutional. That just doesn't happen here. Getting people to collaborate and work together and show that students have common wants and needs." Another staff member echoed these thoughts and said that PB had students and various campus departments in conversation with each other, which generated administrative and student learning. He indicated that some of the issues brought up through PB would not have been addressed otherwise, helping administrators address blind spots when it comes to the challenges some students face on campus.
Challenges
Despite Auraria PB's numerous successes, campus staff indicated several challenges for the process, namely a lack of clarity about PB, a lack of staff input, a lack of institutional support, varying levels of knowledge among students, and a compressed timeline. First, at the start of PB, one interviewee reported that the process was not made clear to campus staff. He said that "There was a lot of confusion around it [PB] because it had never been done before. There was a lot of skepticism about it." Students and organizers did not adequately prepare staff early in the process and did not assuage their concerns. This lack of initial clarity about PB generated some conflict between staff and students during the project development phase of the process.
The biggest challenge for staff was that they felt they were not able to provide enough input during project development. As one interviewee remarked, "If I would change anything, I wanna be allowed to be more involved. I get the benefit of it [PB] being student-led and student-focused. I just think I could have helped more." He indicated that staff felt "ambushed" at times and students did not take staff member's suggestions in good faith. Staff were sometimes left off important communication chains and were therefore out of the loop. As one participant explained, "No one communicated directly to me what won, for instance! They didn't even think to update me after the results came in, so how valuable was I? I get it, but it would have been nice to get more regular updates." The participant wished PB organizers had been more collaborative with staff members but instead, "It felt like they [PB students and organizers] were just using us for what they needed."
Staff members indicated that another challenge for Auraria PB was its tri-campus emphasis. Both interviewees indicated that it is difficult to implement programs across all the schools at Auraria because there is a lack of formal institutions and mechanisms that allow for cross-campus collaboration. As one staff member explained, "We're a unique organization. Having student, faculty, staff participate in our structure is more challenging on our campus. … The [campus] identity isn't as strong." These challenges complicated project development because staff sometimes lacked experience working across departments or across different schools. For students, the lack of cross-campus collaboration hindered their ability to develop projects because they were sometimes unable to find a department that had appropriate authority to vet their project proposals.
Although staff indicated working with the students was one of the most rewarding aspects of Auraria PB, it was also challenging at times, especially because students have varying levels of experience working with bureaucracy and negotiating terms for a project. One interviewee told a story about a budget delegate who called him the day project proposals were due asked him to come to the community garden. As the staff member explained: "I helped him out and came out to the community garden. He was overall kind of abrasive, and I told him what the ballpark cost would be, and that was the most frustrating situation. He did none of the research, is coming at the final hour, and I didn't have to help him." Likely due to a lack of knowledge and experience, the student imposed an unrealistic request on the staff member with short notice.
Another staff member explained, "I had a challenge with convincing them that their budget wasn't enough and that contingency is a good thing. It was a struggle of making the project sexy and attractive for votes and then being realistic." He did not blame the students but rather believed they lacked the time necessary to develop some knowledge related to project planning. As he explained, "I think there's a lot of learning that the students have to go through to develop a proposal. You have to learn what a bus shelter is. Or for the bike share, you have to learn how our funding system works. There's limitations you would never think of."
Finally, one staff member remarked that the compressed timeline of Auraria PB was a challenge, and one that likely contributed to the other challenges experienced in the process. He said more time would have been helpful for all parties involved and that he, personally, would have liked "one more chance to provide input" on projects before they went on the ballot.
Lessons Learned
Interviews with staff identified several lessons learned that could be incorporated in future Auraria PB processes:
Make PB permanent: Both interviewees were highly supportive of PB and believed that the process should be permanent because it benefited students, staff, and the campus at large
Keep PB student-led but better incorporate campus staff as partners in the process: Staff members considered themselves allies and advocates for the process and felt snubbed when students did not take their suggestions in good faith. Staff members are necessary for PB's implementation, and they provide invaluable assistance to this cycle. For example, one interviewee reported that adding a 20% cost buffer to projects on the ballot was his suggestion, one that will help prevent cost overruns during implementation.
Increase the timeline for PB: The compressed timeline for the pilot process generated much of the challenges for campus staff members. They did not feel they had enough time to vet projects and that students did not have enough time to learn important facts about project planning. Allowing more time for PB would provide more chances for staff input, more time to vet and develop projects, and more time for organizers to conduct outreach for student participation. Although staff were impressed with the number of students who participated in PB, more time for the process could generate even greater participation levels.